Why Choose Us
The Nabers family office is a full service real estate company with over 35 years of experience serving the community of Fountain Hills, Arizona. Conveniently located in the center of town, we invite you to stop by our office and introduce yourself. We are all members of the Scottsdale Association of Realtors, Arizona Association of Realtors, National Association of Realtors, Multiple Listing Service and Fountain Hills Chamber of Commerce. Whether you are a first-time buyer, property owner or investor, long term tenant or a visitor looking for a seasonal rental, Nabers Property Management & Real Estate company can assist you with all your real estate needs.
Real Estate Services
Whether it is finding a dream home for a Buyer or finding the perfect venture for the Investor we have the Fountain Hills' experience and knowledge you can trust. Due to the unique nature of our combined Real Estate and Property Management business, we have a long relationship with a large assortment of qualified, potential Buyers. Together with the previous mentioned advantage and our assertive marketing methods we help Sellers sell their properties in a timely and uncomplicated manner. We are proud to have had the opportunity to do business in Fountain Hills for the past 35 years and look forward to continued success in the years to come. For more information, please give us a call at (480) 837-9807 or email us at Info@NabersRealty.com.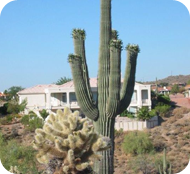 Nabers Property Management & Real Estate has been helping clients buy, sell and lease their properties in Fountain Hills since 1977. With approximately 35 years experience we have established a strong and trusting relationship with our clients and tenants. There are many aspects in purchasing, selling and leasing in Arizona that may be unfamiliar to an out-of-state Buyer or Investor. We have the experience, knowledge and dedication to make the experience a pleasant and lucrative one. We have the "Experience You Can Trust".